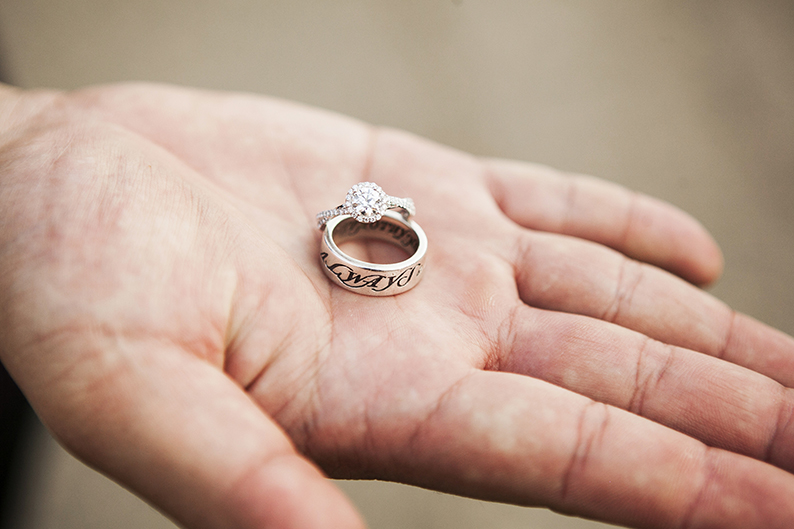 My engagement and promise ring. Credit: Jeannie Mutrais 
2/100
More than a year ago, I accepted my boyfriend's marriage proposal. Like any newly engaged woman, I hopped onto Pinterest and started creating boards for my dream wedding (mason jars, burlap, lace, chalkboard, DIYs, flower arrangements, and the list goes on). I watched every imagined wedding show/movie offered on Netflix.  I spent most of my college years (prior to the engagement) window shopping on bridal websites like, StyleMePretty, TheKnot, and so much more! I even went to great lengths to research and contact "culturally friendly" reception venues.
Then it dawned on me.
We needed to get our priorities straight. I was so wrapped up on creating and planning this fantasy wedding that I ignored the biggest aspect of getting married, a solid foundation. We've been in a committed monogamous relationship for over 6 years now.
That's not our issue. A solid foundation for us is having stability and balance between our work and private life.  I am not a relationship specialist of any sorts but when sh*t hits the fans, I want to be ready for it. I think a 'longer engagement' would benefit us in the long run.
The Mister brought up a great point,  "We should enjoy this new stage in our relationship as long as we can." It totally clicked – despite my incessant need to get married, this will be the only time in our lives we can truly enjoy ourselves, without a mortgage or children.
So we're taking our sweet time with this stage. Don't get me wrong, we are still getting married! Just not in the immediate future.
(Still available for a bridesmaid  position until then!)